Monnat & Spurrier. The Power of Defense.
Monnat & Spurrier, Chartered, was founded to preserve the liberty of people accused of crime by offering a unique form of high-quality representation to individuals and companies.
Recent Events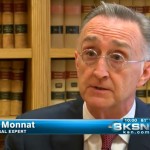 This gallery contains 1 photo.
"Power tends to corrupt and judges have enormous power," said legal expert Dan Monnat, as a state judicial board finds a Sedgwick County judge has been sexually harassing female co-workers for years. "The (Kansas Commission on Judicial Qualifications) has now found by clear and convincing testimony that this judge did not follow the rules designed to be a check on his power…." Continue reading
This gallery contains 1 photo.
DODGE City, Kan. — Dodge City pastor Jerrold Wayne Ketner pled guilty to a single count of aggravated sexual battery as part of a plea agreement with the state that dropped six other felony charges, including rape and attempted rape. "Dr. Ketner has accepted responsibility," Ketner's attorney Sal Intagliata said, pointing out the number of supporters in the courtroom which he said have helped and will continue to help Ketner meet the conditions of his probation.Continue reading